Thanks to our favourite local bee keeper, our bee-learning this fall took on a hands-on dimension. The kids LOVE bees. They totally get it. They get that we eat from the garden (and the stores) thanks to the bees. They are fascinated by these creatures – we all are. And we all love their sweet, sticky goods, too. Even though Chris tells us it is basically bee vomit. Great imagery there. You're welcome.
I was blown away by the bravery in these kiddos. Milo held back just a bit (also the only one without gloves on), and Cohen and Breann each held a male bee – we learned that males don't sting – in their bare hands. They learned about the smoker, the hive tool, the hive, the types of bees, and how honey is extracted from the frames. They each had a turn scraping the wax off the comb before the frames were put in the extractor. Carefully holding the canning jar under the tap as it filled with fresh honey to take home may have been even a bit more exciting than the scraping. Just a bit.
Writing thank you letters to the beekeeper was a lot of fun, including research in our books for just the right thing to draw. Noteworthy: Milo's bee is a Milo Bee. It has blue eyes, just like him. Today the letters were sent off in the mailbox on our way out for a nature walk. Milo is loving finger print bees and I have a feeling the other two will be all over them soon, too. So easy, and so cute.
"The keeping of bees is like the direction of sunbeams." ― Henry David Thoreau Tweet This
Click here to download and print our free Tiny Writer package, with letter writing templates for multiple ages, and letter writing prompts.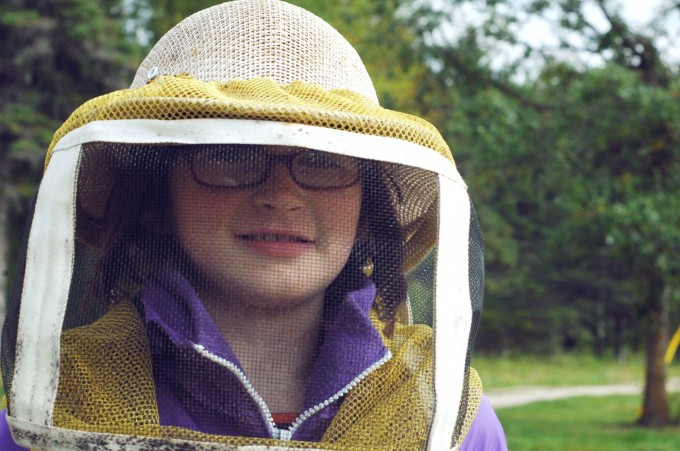 Click here to download our free Tiny Writer package.

This post was shared as a part of Thank Goodness It's Monday, Simply Natural Saturdays, and Our Days, and Montessori Monday.