Around these parts, writing is part of the fabric of the everyday. Below are two ways that writing happens in our home – the first is more  of an 'assigned' type of writing that is part of our homeschool, and the second is very much something that happens in the spur of the moment (or if it happens too late, in frustration and tears).

Gratitude Journals
The other day a blogger shared a photo of a wise quote they have in their home. Start each day with gratitude. Yes. In the summer I purchased lined notebooks that I planned for use as gratitude journals. As with even the best laid plans, ours went astray, and it was only in November that we took pencil to our journals and jotted down words of thankfulness. We are following along with Ann Voskamp's monthly Joy Dares, though to keep it simple, we write down one rather than three gifts we are thankful for each day. We also modify to make the ideas a good fit for our family and for the age range of our little ones. I love using Ann's lists, as they prompt us and remind us of the breadth of things we have to be grateful for.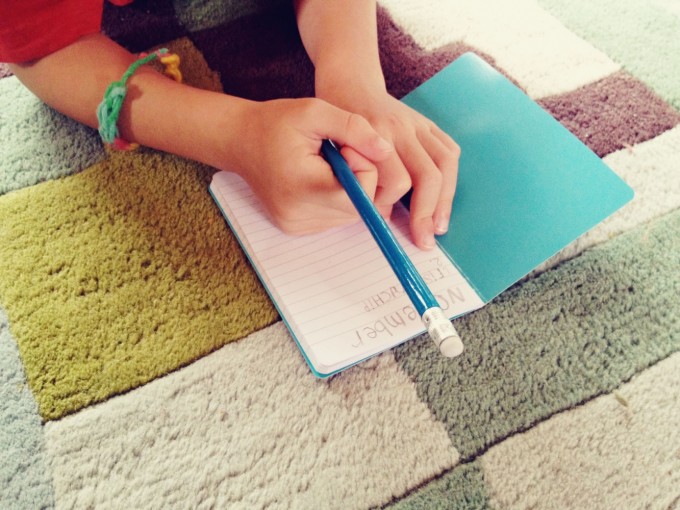 Reminders
One of the best ways we've found to diffuse an upsetting situation where one of our children really wants to do something and there isn't time left in the day, is to offer up the idea to write down a reminder. Even at age 3, these reminders worked wonders. The tears dried up as the pencil worked the paper, drawing a bicycle to be ridden the next day, or a slide that is waiting to be slid down. We place the reminder in a spot where we'll see it and we take care to honour their act of recording their wishes. This simple act of writing allows kids to see that their needs are recognized, and their feelings honoured. It empowers them and calms them. I do hope that it will work for your little ones as well.
Though one of our littles ones writes reminders often, I couldn't find a lot of them around the house or in our memory boxes. The photo below is the only one I could find and was written by our son when he was about 4 years old. He wrote the first thing he wanted to do on the weekend out as a word – tobogganing – and then drew scootering and hockey.
Check out the first part in the Writing with Kids series, DIY Writing Stations.