I hope that each of you had a wonderful holiday filled with peace, joy and love. That you're surrounded with community. That you would experience what in German is called Gemütlichkeit, and in Swedish, Mysig. Wikipedia explains the first word as:
"A space or situation that is warm and cozy, that induces a cheerful mood and peace of mind, without need to hurry or worry…"
Our Christmas celebration really reflects this idea and I love our Slow Christmas traditions. The kids wake to mama-made PJ pants outside their doors, read a verse, and come down to open stockings. We make a waffle breakfast and then throughout the day open gifts until dinner time. Each of the gifts (four from us, and homemade gifts from one another) are savored for a while before we move on. The kids play mini sticks, read stories, and we just are together with no need to hurry or worry.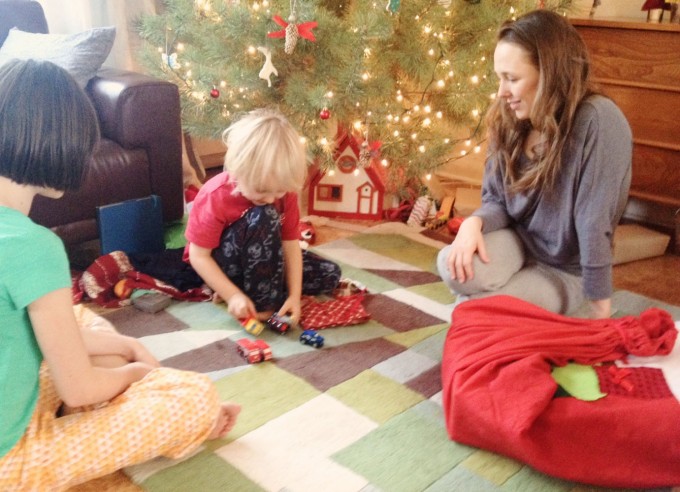 ---
For great recipes and craft ideas to really honor the life of your Christmas tree, check out Repurposing Your Real Tree.
---
Looking for ways to get your kids more involved in the kitchen, but you're not sure where to being? Our Tiny Peasant Pantry package is a full program that outlines age-appropriate kitchen tasks for kids, as well as a cooking, baking, from-scratch, and healing tea learning program. For the parents, we've included our full set of menu planning resources that will save time, money and your sanity!